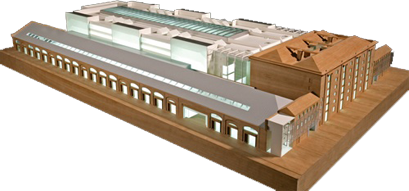 1
Argent's Kings Cross Development is the largest Regeneration Project in Europe and key to its success, in the teeth of the recession, was to capture the aspirations of the University and persuade them to relocate to Kings Cross. They were to be the first occupier on what is a truly massive building site. With fifteen years to go before final completion it needed faith from all concerned.
An aerial view shows the scale of this development
2
The new home for the World Famous Arts College, has been created by clever fusing of the old Granary Building and the former adjoining goods sheds, complete with below ground former stables. A new concrete structure with four storey's and a central street.
The construction fused the old and the new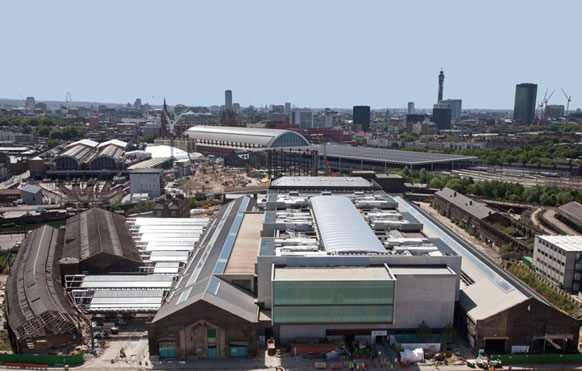 3
Architect Stanton Williams masterminded the design, incorporating the Old Granary to form the Main entrance to the University. The Grade II listed building has been carefully restored.
The Old Granary building was restored with the expertise of Director Michael Beare and Technical Director William Bray, both of AKS Ward Lister Beare, our specialist Heritage team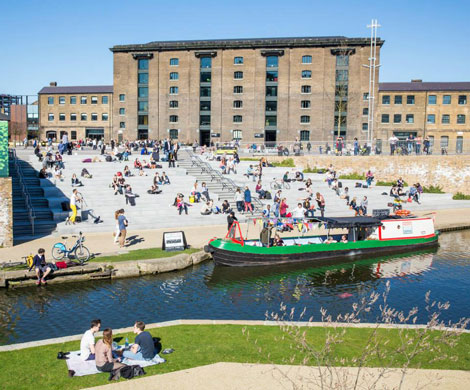 4
Contractor BAM, one of Argent's hand picked builders, appointed AKS Ward to bring our expertise in Historic Buildings to the design team, and to take on the formidable challenge to restore and convert for today's use, all of the historic buildings that 'frame' the University complex.
The internal 'streets' incorporated into Stanton Williams' design provided further challenges, with their clear, unobstructed spaces so essential for the free movement of the users
5
One of the main challenges was to prove that this Victorian load bearing wall and cast iron internal column six storey building, could withstand the rigorous 'progressive collapse' criteria that was being retrospectively applied by the Building Control team of the local authority.
6
In addition to the University accommodation, a large substantial area of commercial offices have been created in the roof space of the Western goods shed, further enhancing the commercial aspects of this development.