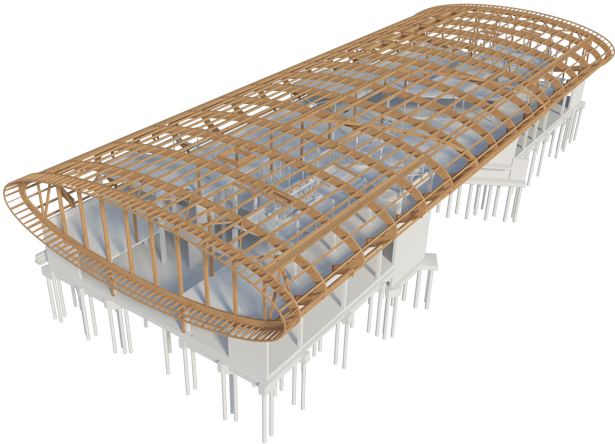 1
This unique Project started with a divided community and a run down residential area in Portsmouth. The district was divided, literally, in the 'cold war era' of the fifties and sixties, when a main road was cut right through the area, to form an emergency route to and from the Naval Base, for which Portsmouth is rightly famous.
The structure forms a 'building bridge' over the road
2
The vision was to re-unite the community with a building of outstanding quality, that would literally be built on a new bridge over the main road.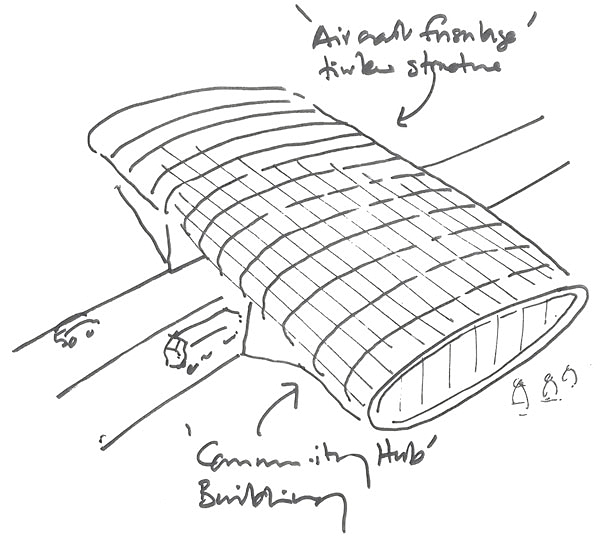 3
AKS Ward were appointed as Structural Engineers by the client, The Portsmouth City Council, and then novated to Contractor BAM, who took on the project on a 'Design and Build' basis.
The Hub will house a variety of community facilities including offices, new Doctors surgeries, a community centre and sports facilities, and it will reconnect the two communities as a result of the pedestrian thoroughfare created by the bridge building
4
We used BIM technology to create the Building Model, which engages a multitude of design and construction techniques, to resolve the structural challenges that this sort of building poses. Working over and around a 'live' main road does have its challenges!
The timber work was designed and fabricated in Switzerland, and incorporates hidden assembly joints, to give an elegant interior
5
The ground breaking, and truly unique superstructure was created using curved Glu-laminated timber frames, oval in form, and just like a massive model aeroplane fuselage.
The outer 'shell' of the building has its own multilevel interior floors, constructed using a combination of post tensioned concrete, for flat slab efficiency, and other areas formed with steel framed composite construction - to suit plant rooms and the like
6
The multitude of structural forms has created a unique and cost effective structure, that will bring back the 'heart' to this once divided community.